Oyo Lawmaker Babajide Donates Motorised Borehole To Abadina Community, Gives Grinding Machine To Woman
Residents of Abadina, University of Ibadan, one of the U.I communities in Ibadan North Local government
were filled with joy when a water project was commissioned for their use on Sunday.
They showered praises on the lawmaker representing Ibadan North constituency II who donated the motorised borehole. They described the project as best of its kind in the area, praising Hon. Adebayo Babajide for responding to their yearning.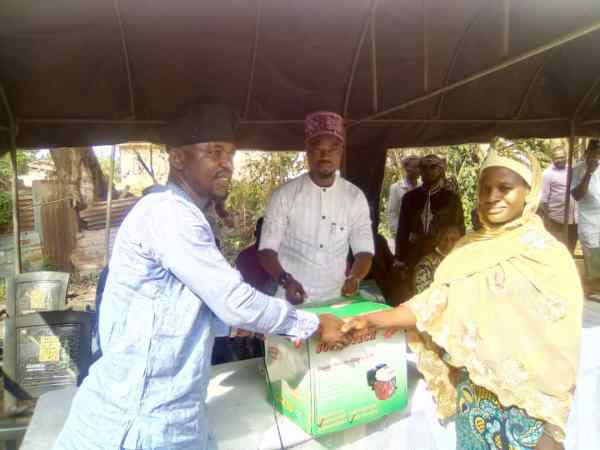 The Borehole was said to had commissioned to commemorate the end of the year activities of the Abadina community inside university of Ibadan.
Babajide through his media aide after the commissioning said providing potable water and improving access to it remained his cardinal agenda, stressed that he was committed to improving the welfare of communities in his constituency through the provision of vital facilities and social infrastructure.
Babajide said during the electioneering, the people of Abadina community complaint that, access to portable water has been problem to them in the area, as they have been neglected by previous representatives, so he promised to erect a Borehole in the area if elected.
Mr. Seun Adelere, Ibadan North PDP chairman while addressing the party faithfuls during the commissioning thank God for the life of hon. Babajide who rose from grass to grace, said he was at a time in his life an hussler from the same abadina community, said a son of nobody now becomes an honourable
The president, Abadina community
Mr Ikechekwu Peter in his speech
advised Hon. Babajide to continue being man of his people. Prayed that, with his humanitarian services and giving the electorate what belongs to them, the sky will be the limit for Babajide, opined that he will go places politically
Mr. Tony Amazi One of the Abadina community elders while addressing the press after the commissioning said the erected borehole is outstanding, stated that the taste and purity of the water can be compare with the one provided by the University of Ibadan, said the community would forever remember the lawmaker for the borehole, noting that it would solve water crisis in the area.
In addition, Hon. Babajide also gave out a Grinding Machine to one Mrs. Durosaro at the same community, a gesture made to fulfil promised made to her in 2019, during the campaign.
The Oyo state PDP publicity secretary, Engr. Akeem Olatunji while making the presentation on behalf of Hon. Babajide, he urged the community to keep their hope alive with the current PDP government.
Mrs. Durosaro the beneficiary of the Grinding Machine applauded Hon. Babajide for being a man of his words.