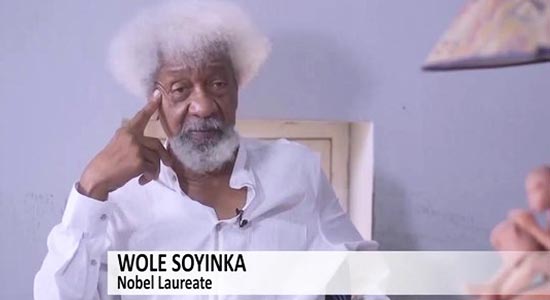 Farmers-Herders Clash Could Lead To Another Civil War— Soyinka Warns
Nobel Laureate, Wole Soyinka  has sound a note of warning to Nigerian leaders that if care is taken, the farmer-herders clash ravaging the south could degenerate into a civil war.
For some weeks now, there has been risen tension as farmers across southern nigeria have decided to fight back the fulani hersdmen who had made living a difficult thing in the region as they kidnap, kill and rape people while they herd.
Governor of Ondo State, Rotimi Akeredolu had in January ordered fulani herdsmen to vacate the state's forest reserve and ensure whoever wants to herd his cattle in the state is duly registered, in Oyo state too, Pro-Yoruba activist, Sunday Adeyemo a.k.a Sunday Igboho had led a number of aggrieved youths to dislodge the Serikin fulani in Igangan, Ibarapa north local government, laying claim to multiple atrocities fulani people had committed in the area.
In a recent chat with BBC Pidgin, Soyinka said there is a need to ensure that the matter is settled amicably.
"My fear is that it could degenerate into violence that ends up in—I hate to use the word—a civil war unless we take action. I'm glad that governors are already dialoguing with groups like Miyetti Allah (cattle breeders)," he said.
"I'm also glad that they're already discussing agreeing to obey the rules and that other groups are already liaising. I think we need to ensure they reach a consensus that will be fair to all parties.
"We're struggling against an enemy that believes in acting the way they please. They believe they have immunity or that nothing can happen to them. That is why, in my own state, you find a soldier taking the side of an enemy.
"They actually escort killers, rapists, raiders while flogging the victims. That wouldn't happen if the people are conscious of the nature of their enemy and are encouraged to collaborate with the security forces."
Soyinka noted he once observed the level of damage done to farmlands by herders while hunting with his colleagues.