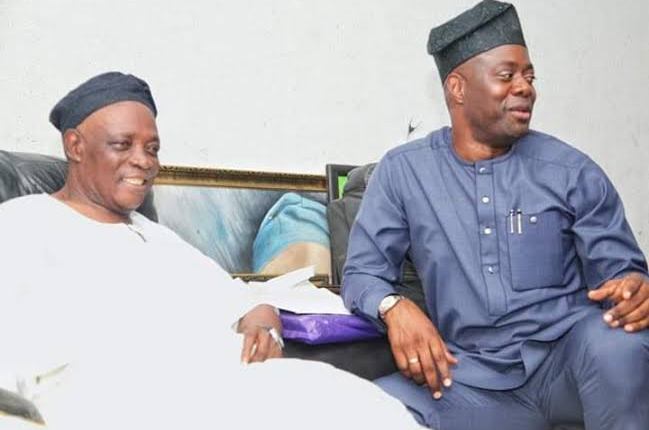 Ladoja Express Disappointment Over Meeting Between ZLP Chair And Gov. Makinde.
The Former Governor of Oyo State and thr Osi Olubadan of Ibadan Land, High Chief Rasheed Adewolu Ladoja have expressed disappointed about the unauthorised meeting between the leaders of The Zenith Labor Party in which he is the  leader in the state with Governor Seyi Makinde and other PDP.leaders in the state.
Sole Abisoye, Chairman anf Lanre Latinwo, party's spokesperson were reported to have had a meeting with Governor Makinde and other pdp leaders yesterday to pefect plans on how to defect to the party as some the party's chieftain have shown interest in the oppositiin APC.
Ladoja was said to have blasted Abisoye and Latinwo who were reportedly to have led the delegation of Oyo ZLP to meet Makinde and leaders of PDP on behalf him and ZLP
According to an information gathered by Todaysplash from a source inside Sen. Ladoja's house, the source who crave to be anonymous said, sen. Ladoja was highly disappointed when he heard that his loyalists were holding a defection meeting with Makinde.
" Baba never asked them to go, he is not interested in PDP or doing another political play with governor Makinde, their move surprises everyone.
" I was with Baba when Lanbash ( Lanre Latinwo ) called Baba to update him that they had met PDP to perfect ZLP defection, but Baba shouted at him on phone, he asked him who gave them order to meet PDP, on who's instruction and for what purpose.
" Baba Ladoja told hin point blank that, what they did is not for Oyo state ZLP but for their own selfish interest, he told him on phone that, all people who went for the meeting should only bear their names and never to use his own profile and ZLP to negotiate with any opposition party again.
The source confirmed that, ZLP leaders met with leaders of APC last week Friday and it was collective decision of the party leaders including senator Rashidi Ladoja.
" Wole Abisoye and Latinwo acted lonely, it is like they want to follow another leg-over of Seyi Makinde, someone has hinted Baba that, they made the move based on promises made to them by governor Makinde, but Baba didn't fall for him again, as you can see, the meeting that was held last week by ZLP leaders and APC leaders was legit, there was no controversy because Baba authorised it, it was Baba Ladoja that instructed Sarafa Alli and others to go and meet the APC leaders and no defection decision made yet, ZLP is still intact with Baba Ladoja as the overall leader".