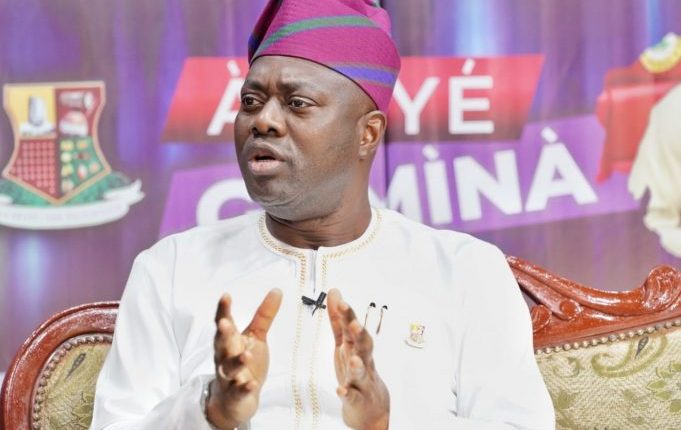 If We Were in Military Regime, I would Have Fired LAUTECH VC—Gov Makinde
Oyo State Governor, Engineer Seyi Makinde has said investigation revealed that the Vice-Chancellor of Ladoke Akintola University of Technology was behind the recent protest that rocked the institution where the union protested against their unpaid salaries.
Makinde revealed this on Saturday during the quarterly media chat at Broadcasting Corporation of Oyo State. According to the Governor, "LAUTECH is supposed to be a citadel of learning.
We thank God that the issue of ownership is settled already. LAUTECH now belongs fully to Oyo State. And even farmers and herders clashes, I told the people that, in resolving it, it is not by issuing threat here and there."
"On the sole ownership of LAUTECH, some governors from the same party could not solve it. But during my time and that of my brother, Governor Oyetola, we achieved it.
We sat down and worked it out. For LAUTECH, Oyo State government will ensure that the objective is realized and we will continue to do what is just in the institution. We should also have the Governing Council in place within the shortest time as we are still working on that. They will be up and running very soon."
"After we established the sole ownership of the institution, some people recently came out that they are being owed salary and I was shocked. Immediately, we did an investigation and I was told that the current Vice-Chancellor was the one who instigated the union, saying that if Oyo State can pay 8billion to Osun to take over the university, then the salary owed should be paid.
If we were in the military regime, I would have fired the VC immediately but this is a government founded on rule of law."
"When I came in, those representing Oyo State on LAUTECH's Governing Council are those I really respect but when it comes to issue of doing the right thing, I will always do what is right and if you still want to continue to be my friend, it is okay.
And if you say you don't want to make friends with me again, I will agree with you. So, some issues will be resolved and I want to urge our people to be patient.
I know they have not done convocation for two or three years but I can assure us that will resolve all the issues. Let us just give the new Governing Council and Management time to consolidate and what is right."
ON WASTE DISPOSAL

"The issue of waste disposal in Oyo State, when we came in, if you look at the picture of Awotan Dumpsite, it was in a sorry state. When I went there for the first time, a lot of people had already moved away from that environment because the whole place was contaminated. But when we came in, we fixed the whole place.
I will be commissioning the landfill on the 25th of February. It is ready and after that, they will move to Ajakanga. They are also doing some remedial work at Lapite right now."
"On the new architecture, we want a situation whereby when PSP see waste on the road, they will see it like gold because the quantity of what they bring to the dumpsite will determine the amount they will be paid.
We want to start it but there could be issues. If we encounter any challenge, we will come back and sit down and address those issues. But a new architecture will kick in with the commissioning of the Awotan dumpsite."