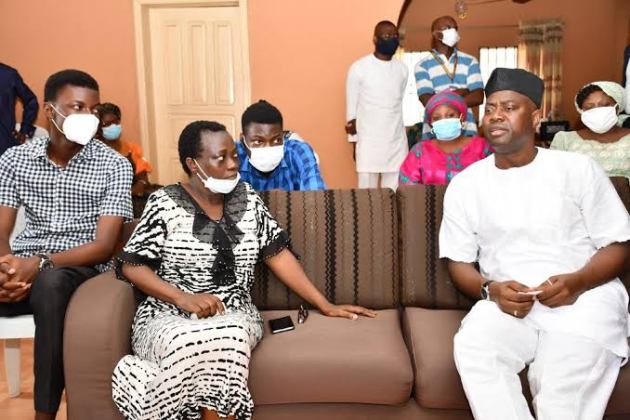 Late Kehinde Ayoola's Wife Was Never Abandoned, It's Unfortunate She Was A Cancer Patient—Makinde's CPS
The Oyo State Government through the Chief Press Secretary To Governor Seyi Makinde has refuted rumour making the rounds that the family of the late Commissioner for Environment and Natural Resources Rtd. Hon Kehinde Ayoola's Wife was abandoned by Engr Seyi Makinde, leading to her unfortunate death.
Recall that the former now late Commissioner for Environment and Natural Resources Rtd Hon. Kehinde Ayoola died about 10 months ago.
His wife also died few days ago, and some unconfirmed news had rented the social media, alledging governor Makinde of neglecting the late Prof who happens to be his bossom friend wife during an illness period which was reported to be Cancer.
Mr Taiwo Adisa Speaking on a Radio program in Ibadan, Ancord by Anuoluwapo Omorinde of IBR FM, Monitored By TODAY SPLASH, Makinde's Spokesman, said that Governor Makinde has been fufiling all promises made to the family during the funeral ceremony organised by the Oyo State Government in honor of the late Commissioner for Environment and Natural Resources.
Taiwo Adisa was quoted to have said
"The death of Mrs. Ayoola is particularly painful because it happened at this time when her two sons and the entire family needed her the most.
"Late Professor Oluwakemi Ayoola didn't die from neglect or depression, but she was a cancer patient. We learnt that her late husband had been managing her with the ailment before his demise.
"It is difficult to manage cancer, the ailment degenerated a while ago and her unfortunate demise has nothing to do with whether the government has been taking care of her or not but the Governor stood by the family since the late Hon Ayoola died." he said.