Pastor Dapo Adegboyega, Dele Adeola, Ibadan Pride, Others Storm Poly Ibadan For FESSA Annual Professional Summit
The 2021 edition of the Faculty of Environmental Studies Student's Association held today, 20th May, was graced by all and sundry from both professional, political and corporate world.
The event which was held at the Assembly Hall of the polytechnic Ibadan, in attendance prominent personalities like Hon. Dele Adeola, A member of the Oyo State House of Assembly, representing Iseyin/Itesiwaju state constituency, Hon. Kazeem Bolarinwa a.k.a Ibadan Pride, the Special Assistant to The Governor on Youth and Sports affairs, Pastor Dapo Adegboyega and renown Gospel preacher, Career developer and philanthropist who's equally the CEO of Boom Fund Organisation, a platform where entrepreneurial ideas are been supported with required finance.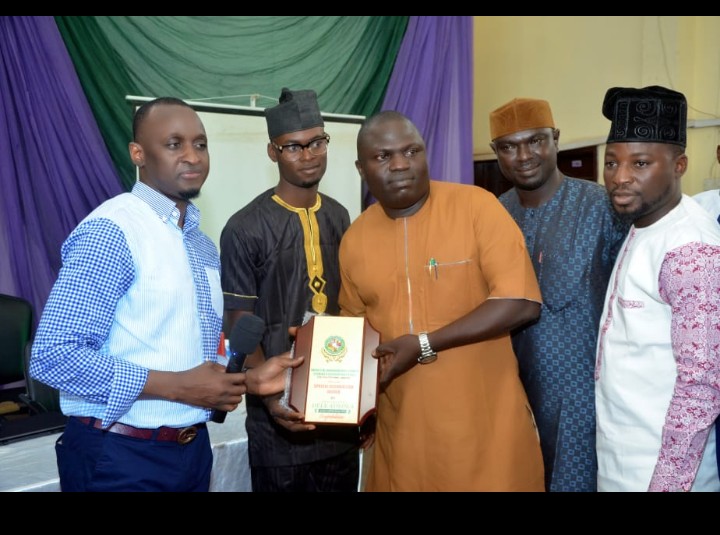 Also in attendance was Surv. Aro Lambo Yusuf, the principal aide to the Surveyor General of the Federation, Mr. Taoheed Lawo, CEO Tao Group of Company, Surv. Kobiowu Aderemi, The Chairman, Nigerian Institute of Survey.
Also in the academia were, Mr. Remi Olalere, the Dean of the Facuktybof Environmental Studies, Surv. Oyetunji Martins, HOD, Surveying and Geo-informatics Department, Surv. Adeyemo Abeeb, HOD, Quantity Surveying department, the Faculty Officer, Mrs. Abegunde, Mr. Yomi Akande Ibrahim, The association's staff adviser and Mr. Ogundiran, the association's patron.
This year's theme of the Summit was "Zero To Hero" the topic was extensively discussed by Surv. Arolambo Yusuf and Rev. Dapo Adegboyega, who took the students and the audience on the oratory walk to success.
Surv. Arolambo, delivered a slide presentation on " Attaining success from from ground zero", He defined success to be a state of achievement of a specific goal, it is not determined by material things, success is only a product of conscientious effort towards ones set goals.
It doesn't matter what you've achieved in the past, the point at which you're starting fresh is your ground Zero and it can't only result in success when you follow through with all your strength.
Rev. Dapo Adegboyega also spoke on self discovery, discovering the inborn talents that individuals posses, it is when you discover that which is in you that you can achieve your set goals and become a HERO.
The event also featured award presentation to best students across departments that makes up the faculty and the overall best student of the faculty, the award which was sponsored by Rev. Dapo were presented in fiorm of cash prize to the students. The beneficiaries are :
1.Surveying And geoinformatics :-Hazzan habidat ajoke
Architecture dept :- ADEDIRAN BASIT ADEDEJI.
Art, design and printing. :- OJEBIYI TIMOTHY OLUWASEUN.
Building technology :- OGUNRINDE SAMUEL
quantity surveying :- AKINADE GRACE.
estate Management :- ODEYEMI BISOLA.
URP :- OLAROMOYE JUDE OLAGOKE
fessa overall best student:- ADENIRAN SUNDAY OPEYEMI.
Also, special recognition award were also presented to deserving personalities like, Surv. Dele Adeola, Pastor Dapo Adegboyega, bSurv. Aderemi Kobiowu, Surv. Arolambo Yusuf, Olawale Hamzat (Top Striker) and Hon. Kazeeem Bolarinwa