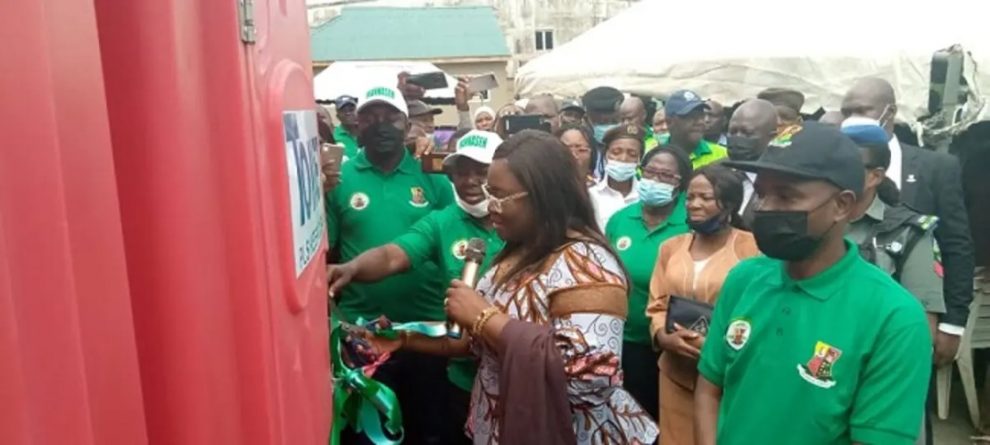 Oyo Government Launches Free Mobile Toilet Units
The Oyo state government, through its Ministry of Environment and Natural Resources, has introduced 50 mobile toilet units on Wednesday as part of ongoing measures to combat the threat of open defecation in the state.
The toilets, according to the Ministry of Environment and Natural Resources are a pilot scheme targeted at markets, motor parks, garages, among other public places which lack toilet facilities.
At the launching ceremony, the state also inaugurated Clean and Green clubs at several schools across the state to promote healthy living and reduce deforestation.
The mobile toilets initiative is a Public-Private-Partnership (PPP) with Manasseh Engineering, waste management experts who will oversee the deployment of the mobile toilets to areas they're needed most.
Dr Abdulateef Oyeleke, the state Commissioner for Environment and Natural Resources, said the mobile toilets would assist in eliminating open defecation, which he characterized as a big challenge in the state.
Oyeleke said that some people defecate indiscriminately in society despite its health and environmental implications to society.
He said "In an attempt to mitigate the health challenges associated with it, the government has partnered with Manasseh Company to acquire these 50 mobile toilets that will be distributed to identified areas. It is not going to be free for deployment but the amount to be charged will be minimal."
The Commissioner promised that the ministry would continue to monitor the sanitary condition of the facilities and asked residents of the state to make good use of the toilets, noting that more will be deployed soon.
Mrs Oluwabamiwo Adeosun, Secretary to the Oyo State Government (SSG), who officially opened the facility and the Green and Clean club, remarked that a clean atmosphere promotes healthy living.
She urged the club's members to look after the trees that had been planted in their various schools to make the environment greener, healthier, and more conducive to learning.
Adeosun emphasized the importance of preserving the environment for future generations, stressing that a clean environment helps pupils think clearly and urged them to continue the habit of planting trees to prevent deforestation.
Adeosun also stated that Oyo state's fight against open defecation must be maintained, noting that it is proper to use a clean toilet.
Mr Gbenjo Abimbola, the Operation Manager of Manasseh, said the company partnered up with the Oyo State government to eliminate open defecation in Oyo State.
Abimbola stated that the 50 mobile toilets deployed were only the beginning and that more would be sent to other sections of the state soon.
Commissioners, students, workers, health officers, and other important stakeholders attended the event, which was hosted at the Ministry of Environment and Natural Resources.