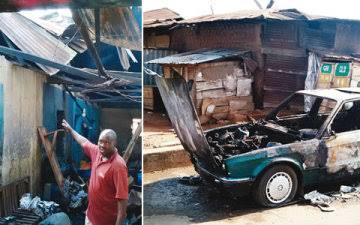 Group Laments, Condemns Oja'gbo, Kosodo Frequent Communal Clashes, Preaches Peace, Wants Makinde To Raise Peace Panel In Oyo State
An Oyo public concern group 'Oyo Must be Great' group has condemned the frequent breakdown of laws and order, which have led to loss of lives and property as well as loss of trust, peace, harmony and a sense of community among the hitherto peaceful residents of Oja'gbo and Kosodo communities in Ibadan North East area, Ibadan, the Oyo State capital.
The group state coordinator, Hon Ishola Akeem Adetoyese, described the often fights between residents of Oja'gbo and Kosodo of Ibadan Northeast area as one major security breach too many, lamented that loss and destruction of lives and property in the most saddened and horrifying manner had become a norm, festering with the encouragement of the state government's body language.
The Group according to its coordinator; Hon Ishola Akeem Adetoyese who also hails from the area, said the state governor, Seyi Makinde as a leader operating under a trance, and the sooner he gets out of that trance, the better for the state.
Appealing to trouble makers of the unrest communities, Oyo Must be Great Group
said the time has come for those who love Ibadan and its communities and desire its continued peaceful existence as a developing city to rise to the occasion, appealed to the two warring communities to sheathe their swords, saying it was irresponsible for brothers to pick arms against themselves over mere issues of "Egungun festival" that's supposed to be a playing thing for both communities.
The Group through its coordinator Hon Ishola Akeem Adetoyese urged governor Seyi Makinde, Security Agencies and those mandated to maintain peace and order to find a solution to the recurring breaches of peace and security in Oja'gbo, Kosodo and other local communities in Ibadan and environs .
"It is very saddened and unencouraging waking up everyday in Ibadan, hearing the killing, maiming and destruction of property in some part of the ancient city under the nose of an acclaimed performing governor.
"The two neighbouring communities Oja'gbo and Kosodo have always been at logger heads over what can only be described as fights for superiority and Egungun Festivals which have culminated into frequent bloody clashes with every clash beyond control with lost of lives, houses, stores and shops razing down.
"It is unfortunate that the residents of two communities who are meant to live in peace and harmony had freezed out the long friendship and togetherness that existed between the two communities.
"In history, People of Oja'gbo and Kosodo are allies, associate, it was said that the two communities are always in healthy competitions when it comes to production of leading lights in economy and security of Ibadan in those days but now living together of the two communities is now a danger to their residents and people of Ibadan.
The present situation in the said areas is alarming as hoodlums are now using the unserious attitude of the present state government to capitalize on the unfriendliness of the community to unleash more terror on people of the communities.
Thou, it is agreed that, the unrest and security breaches is not only from the two communities or Ibadan, the whole state is not safe for resident to sleep with eye closed, We would say, His excellency, Seyi Makinde is under a trance. and the sooner he gets out of it, the better, we want him to get out of it, so as to able to control many coming unforced security breaches and his own errors on security.
"We are calling on Oyo state Governor, Engr Seyi Makinde to add more effort on security
and to raise a peace panel that would work with all the erring parties in the dispute to identify the causes of the crisis and permanently resolve them so as not to occur again in future; the Group coordinator; Hon Ishola Akeem Adetoyese said
"We also call on the police and other security agencies to immediately move into the warring communities not only to restore order but to provide lasting solution to the frequent unrest between Oja'gbo and Kosodo communities.