Chief Adebisi Olopoeyan, A Chieftain of the people's Democratic Party in Oyo State and one of the aggrieved party member in the state had declared that the governor of Oyo State, Engr. Seyi Makinde does not genuinely want the crisis rocking the party to end and he's the major cause of the crisis and definitely knows what to do to ensure peace returns to the party.
Alh. Olopoeyan who clocks 60 today received journalist in his Ibadan resident, where he responded to questions which span from his childhood to his development into printing, telecoms and automobile business and his sojourn into politics and his relationship with Governor Seyi Makinde.
I was born at Beyerunka in Ibadan and attended CAC primary school between 1968 and 1973, he proceeded to learning printing works at Charity printing press for five years, he later worked at different places from Oodua printing press to world papar as well as Advocate News paper and many other publishing companies.
I joined politics in the second republic, joining National Party of Nigeria (NPN) before another military incursion by the Buhari Idiagbon regime which prompt him returning to Lagos and ventured into automobile business in Lagos, the business which he still runs till today, he also was one of the first set of Telecom dealer to sell telephone in Ibadan at the early days of Introduction of mobile phone in Nigeria.
"As a conservative person, I joined The People's Democratic Party (PDP) in 1998 and I was introduced to Chief lamidi Adedibu in year 2000 by a former Chief Editor of Advocate News paper whom we had worked together 'Layi Ajakaye"
When asked how he came about the name Olopoeyan, the chieftain of PDP take a deep breath, relax and recollect how as part of his humanitarian guesture to his people, embarked on an empowerment as a party man, his mentor and Late Ibadan political Warlord Chief Lamidi Adedibu came to commission what he facilitated, on that faithful day, the crowd was massive to the amazement of our father Chief Adedibu, he was like look at the crowd we've got here, 'e wo bi ero se po', e ri pe bisi lero leyin gan" that was when the late Chief Adedibu said" we dont need to go to Oke-Ogun in search of Olopoeyan, we have our own Olopoeyan here in Ibadan, and since then, it has been a household name.
Advertisements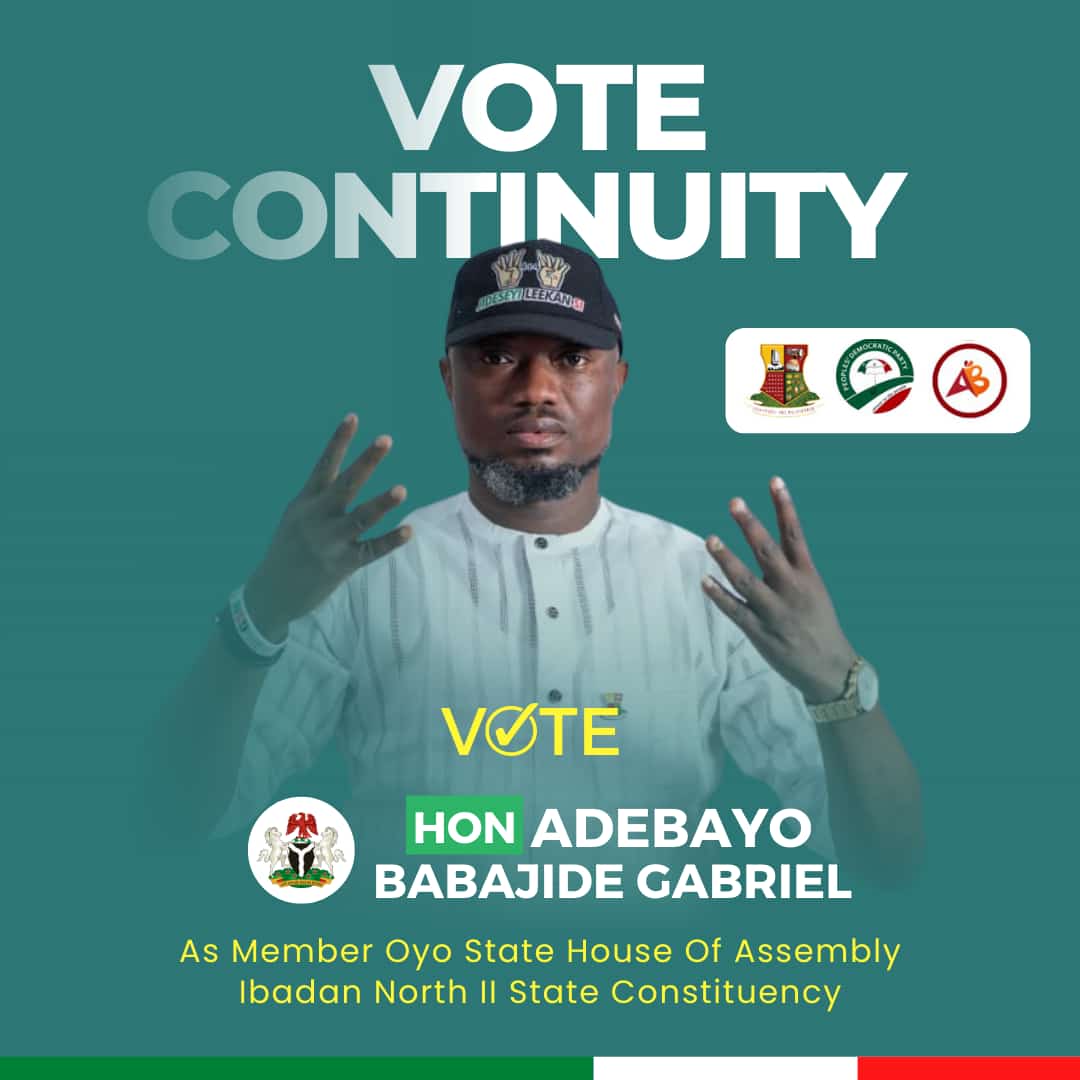 He equally made clarity about his origination, as regards the public claim that he's not from Ibadan originally, He said his mother was from Ijesha and my father was from Ondo, but both parent were also bred in Ibadan, which distanced him from either of their origin and made him more Ibadan by origin than any other place, "whosoever says I'm not an indigen of Ibadan, let him come forth and tell me how he became an Ibadan man" He said.
He also talk about his role model in politics which is Alh. Lamidi Ariyibi Adedibu of blessed memory, "he's my role model, I went through thorough breeding and mentorship under him and even at death, I hold him in high esteem" he said.
Olopoeyan said that he had regrets over the crisis in connection with the annulment of June 12, 1993 that almost exited his life and also the energy he dissipated to enthronement of Seyi Makinde in 2019 general elections was a regretful one.
Since joining politics in the second republic, my deepest regret came in this dispensation, throughout my sojourn in politics, I've never exert that kind of pressure I exerted into Seyi Makinde's struggle, only to be treated as a piece of trash and making effort to assasinate me"
Seyi Makinde was introduced to me in 2011 as a senatorial candidate by Mrs. Yetunde Adeojo, a former women leader of PDP, former Security advised to Give. Ladoja, and the commissioner for Estab. under governor Also Akala, Jelili Agboola, and I fell in love with him as a young man who's interested in Politics, I feel if given required support, he'll definitely deliver"
As crisis keeps rocking the party in the state, despite being in power, he spoke on several reconciliation moves to help quench the flame but surprisingly, the fire keeps blooming.
" The Saraki led reconciliation committee which came for another peace talk in Ibadan recently has the capacity to resolve the crisis, but the governor's body language doesn't want the crisis to end, since the meeting ended about two weeks ago, the governor and his allies hasn't made any effort to communicate with any of the aggrieved members"
However, in the midst of the crisis, it's seems the chairman isn't doing enough to enhance peace and harmonious coexistence amongst the party members, as there's not been any move by his leadership to restore peace into the party.
Our State party Chairman Chief Kunmi Mustapha is just a figurehead chairman, the party is being run by his secretary, Alh. Wasiu Adele, most decision are made by Wasiu Adeleke, they only take it to the Chairman for approval which he must oblige.
He also talked about a rumored unanimous support of Southern PDP governors to present the former governor of Osun state, Prince Olagunsoye Oyinlola as the next PDP national chairman, he said the governors alone can't decide who becomes the party's National chairman, all candidates are to obtain expression of interest form and do their assignment which will determine the verdict at the National convention.
He made clarification about the spreading rumors of his romance with the All Progressives Congress, he said he's never interested in joining APC, he has a lot of friends in the opposition side and the fact that he's from another party doesn't mean he shouldn't have good relationship with them.
"If I wish to leave PDP today, I don't think there's no one that can stop me, not even the governor whom we knew his asscension and buy God's grace we'll be alive when he'll leave the throne, I'm a free man, I don't do anything in the dark"
As he clocks sixty, he expressed gratitude to God over his life, and that of his family, how far he's been able to go and the grace he had enjoyed despite the fact that the government he worked for with all his strength decided to be ungrateful to him, he keeps growing higher and waxing stronger in influence.