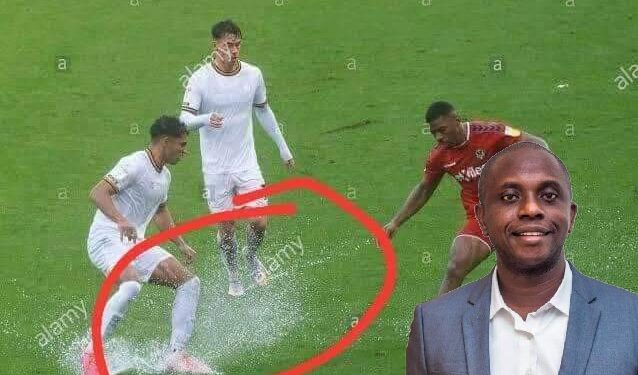 Adamasingba Waterlogged Pitch: … Before You're Misinformed —Akeem Azeez
As usual members of the opposition failed to disappoint me. Yesterday was the commissioning of much talked about and first of it kind remolded Adamashingba stadium.
Until the unveiling yesterday, the stadium was in deplorable state to say the least. The contractor, Peculiar had gotten the job purely on merit on the account of his pedigree which includes the Samuel Ogbemudia stadium, Benin City which hosted National sport Festival. He had done several sporting event centres for the National Sport and other states. As you are reading this, He is working in other stadia across the country which include Teslim Balogun Stadium Lagos State, Yenegao Bayelsa state and a host of others.
The contractor got the job exactly one year ago with a duration of 18month. The most talked about- football arena which is part of Phase one of the project was delivered before schedule. Isnt that Record breaking in an Environment where contractors abandoned project mid-way.
As a matter of facts, the past administration of Gov Ajimobi had contracted the renovation of Track to a contractor who collected Mobilisation fees only to abscond from project site without lifting a finger. Nobody has spoken about that.
Another Contractor of the past administration who also got Saki Township Road who had been paid billions of Naira only to abandon the project without delivering 30% of the Scope of work.
When scope of work vis a vis cost analysis was carried out, the so called contractor is owing the state N800m. I can go on and on but for whatever reason we should move away from primordial politicking. Those who say it can't be done should not disturb those who are doing it.
GSM administration is building more mini- stadia across the state which include, Saki, Iseyin, Eruwa, Bodija, Bishop Philips Iworoad, Ikolaba and Olubadan to mention a few. For the first time in decades, Oyo state hosted international stars and played a match under flood light and there was no power outage or Security breach. The cry of water logged pitch is ventilated largely by members of opposition . This is not new. Football lovers across the world have seen worse situations in biggest and iconic stadia. Google is your friend. Just ask Google.
The state is moving forward and like they say in the United States, You ain't see nothing yet. Wait for more GSM Effects in your area.
•Azeez Akeem is the Personal Assistant to Governor Seyi Makinde