Show Eagerness For Bountiful Harvest of Reaps For The Year 2022—MOE
A staunched supporter of Governor Seyi Makinde from Ibadan Northeast Local Government, Oyo State Comrade MoyosoreOluwa Olamilekan Eldreez(MOE) has enjoined people to show eagerness for bountiful harvest of reaps as newest year 2022 would usher in sufficient rewards.
MOE disclosed this in a release he personally signed and made available to Newsmen
According to him, "to God be the glory in the highest who saw us through the year 2021 journey and brought us into year 2022 in good faith and hope for a rewarding and eventful season and goodwill.
"Also, the year 2021 was a very shocking and disheartened moment, but to God be the glory for keeping us alive kicking in good health and of sound mind as well holding forth for us in our dear State and Nigeria at large.
"As we stepped into the New Year 2022, It is full of great offers that will usher us into streams of endless opportunities to cushion our lives, aspirations and goals highlighted to be achieved as well review our previous and penultimate error of 2021 so as to be upgraded in the new chapter.
"However, like I do say that " The story you are writing today will be read by somebody else, create history from your story" I want to use this medium to charge and urge all of us to be united in love, give room for tolerance and as well give our maximum support and encouragement to the Government of Oyo State under the Captain of H.E Engineer Seyi Makinde, The Executive Governor of Oyo State, the Fogbontolu General JAGUNMOLU OF Ibadan Land ILUFEMILOYE1 towards his Good Governance Good Politics and Policies that brings Democracy to the Grassroots being rolled out to the people of the State so as to take them from POVERTY to PROSPERITY.
"Furthermore, I equally want to admonish our teaming Youths at both Local and State level to contribute their quota to the facelifts and progress of the state.
"As a matter of fact, our Youth should play their part towards Nation building, knowing fully well that we are already in the Election year where different aspiration, emerging Leaders will show up, campaign from left to right, house to house, corner to corner, quarters to quarters.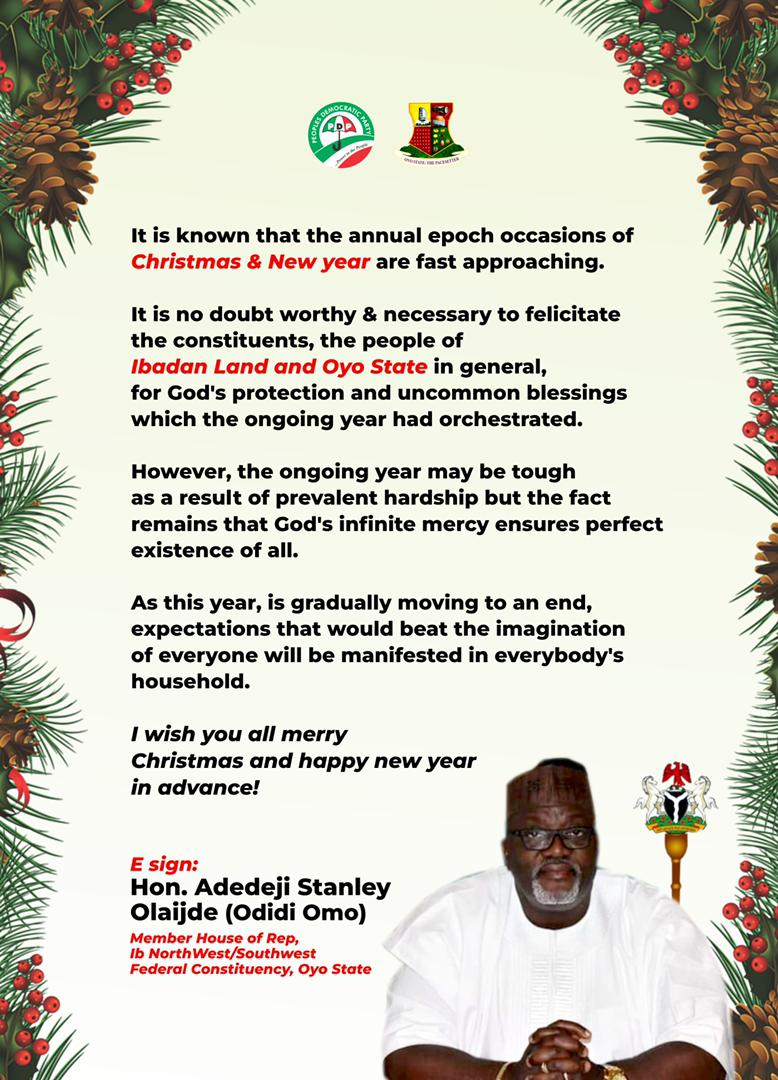 "I must confess that, our today's Leader, the youth should stand up for the entire country using their ability, agility, talents judiciously and deem it fit to position themselves into Leadership roles either in politics, social life, corporate world and a host of others, with this our Nation will wear a new look and be a better place to live and survive.
"Kudos to The Executive Governor of Oyo State, for the scintillating support extended and being Youth friendly as well Student Friendly Governor of the year 2021 "Father" as a Governor to compliment his accelerated development plan between 2019-2023 in his goal oriented administration by giving young chaps the privilege to serve under him within his cabinet in various capacity, this shows that Youth are gradually taking over from our aged Leaders to changing the narrative from what it used to be to what it ought to be positively.
"No doubt, the ravaging pandemic code named COVID-19, Omicron Variant is still very much in existence hence our responsibility to be watchful and follow the Oyo State Own Your Action (O.Y.A) by making sure, all protocols, procedures and guidelines set are followed to the letter by the state Government task force as against the spread of the virus with one another. One of which, social distance, washing of hands with soap and water regularly as well use of Face/Nose masks be observed from time to time.
"Optimally, we hope that 2022 shall be a better and well fulfilled year for all of us and great record of success be achieved within the shortest possible time.
"These are required from you and I to offer our support in the following areas such as, consciously showing commitment physically, spiritually, socially etc towards our collective goal and dedication in having a better Oyo State assured and Nigeria at large.
"Together we can work/walk together and Make a Difference (M.A.D) in our dear State and Country Nigeria, hence the Project Making Oyo Great Again (M.O.G.A) in our hands.
"I humbly Welcome you all to our REWARDING Year 2022!
"Enjoy The New Year of Rehoboth!", the statement ended.