A chieftain of the People's Democratic Party (PDP) and a former president of the National Youth Council of (Nigeria NYCN) has outlined why he's best fitted to represent the good people of Oyo Central Senatorial District.
The former president of the University of Lagos (UNILAG) who hails from Egbeda local government, in a Chart with some selected Newsmen in Ibadan on Thursday, where he declare his ambition to represent Oyo Central Senatorial district at the red chambers, explain why he thinks it's time to think 'Youths', how he has device a problem solving technics to solve the many challenges facings the people he intend to represent.
Wale Ajani hammered on the state of poor empowerment scheme the current and past legislative members embacked upon, saying most of this empowerment were not properly channeled and as such will not live up to expectations, it's not about sharing bikes, sewing machines, they need to be properly channeled.
We won't be elitist, we will only be going about it in a different way, forget the fact that I've been previldge, but i can tell you that i wasn't born rich, i know where the shoes hurt, as a job creator it's pertinent to study the environment, i can boldly say I've done that, if given the opportunity to represent my people, education, job creation/empowerment will be handled differently, I've got good relationship with many friends who are currently in the Senate, it's about strategizing growth to my constituency, I've got the wherewithal, knowledge to lobby development, and a map out plan in channeling them to the best utilization.
It will be done in groups those who are educated will be empowered accordingly, we would have programmes for them that would enhance what they know and give them leverage globally with our connection, while those who we will be giving dryers, sewing machines will be properly trained, it's one thing to give them and they will abandon it or sell it out, because they dont have the required skills to use those machines.
We will be doing all this without party affiliation, the goal is to have meaningful developmental projects that will benefit my people greatly, it's about our sagacity and the right cacous when we get there, which i believe we understand.
Advertisements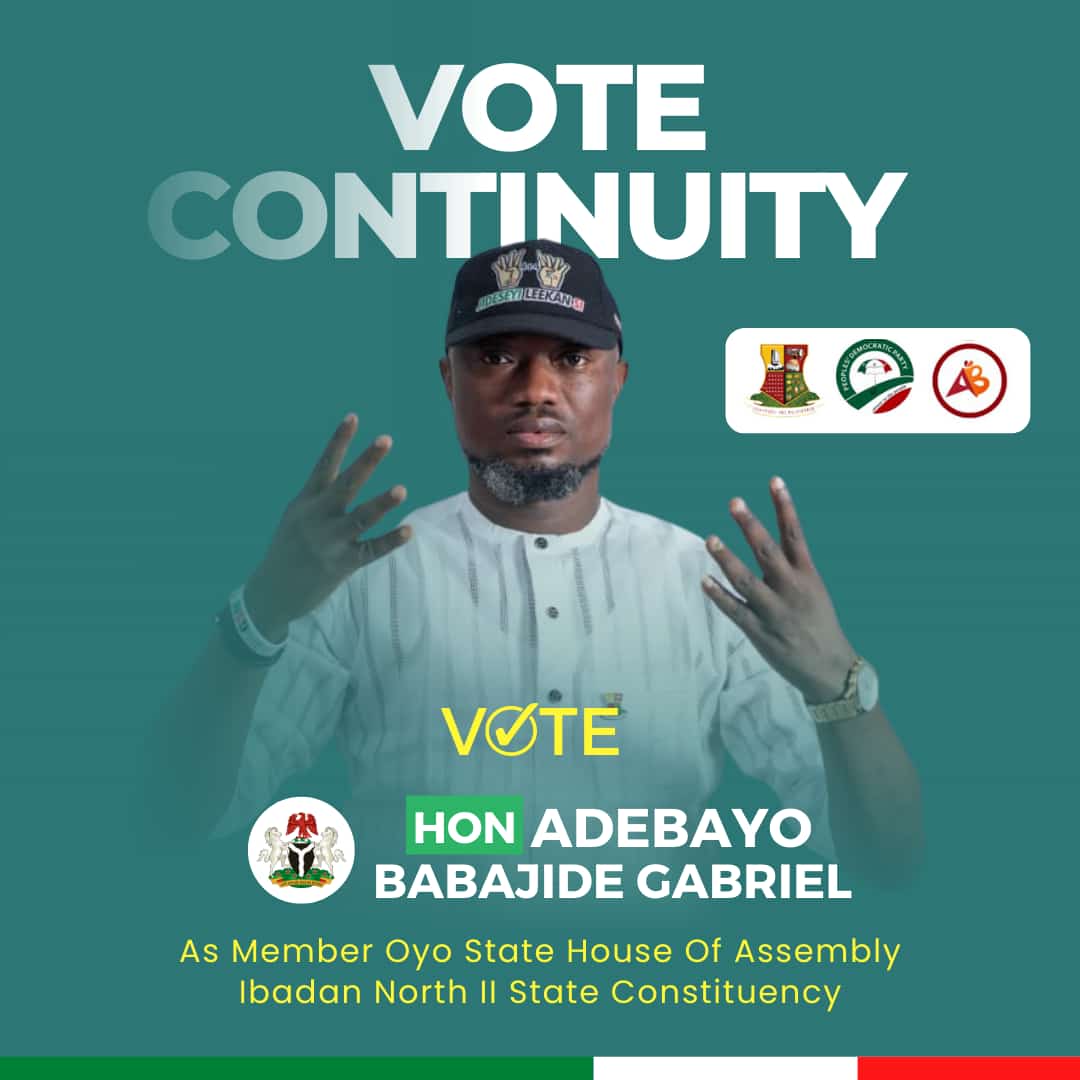 The UNILAG trained Civil engineer while narrating how he found himself in politics, said "I met former governor high chief Rashidi Ladoja during the last national CONFAB in 2014. It happens that the chairman of the CONFAB late Justice Legbo Kutigi kept calling names he knows, as the president of NYCN, i had to create a scene so we the youth will also be recognize, i guess Baba Ladoja was impressed, he later called and asked where I am from? I told him I'm from Ibadan and he was shocked, Baba happy to know I'm from Oyo State invited me to come join him and the rest is history.

When asked which faction he belongs to, beemed with smile on his face, the young and energetic Wale Ajani said, I'm of no faction "I believe in the leadership of Governor Seyi Makinde", I am not aggrieved so i wouldn't know any other camp, because I am not a political contractor. I spent money and everything during the last election, I'm yet to get anything and I don't think it's enough reasons to be angry or Aggrieved, i wasn't contracted to do this, i willingly do it out of my own will.
When asked why aspiring for Senate considering the fact that he contested for State house of Assembly in the last election?
He said when i was with baba ladoja in Accord party, he asked me to come Contest assembly seat but i was not interested, i stylishly rejected it, I still stayed with him. When we left for African Democratic Congress (ADC). My intentions was to represent the good people of Egbeda/Ona Ara at the green chambers, then came the obstacle which was an incumbent. When i was offered the assembly ticket, I tried doing same thing but i was strongly advised against rejecting it for the second time, you know how some political decisions are, the rest is history I'm of the PDP now and it's a call for me to come and represent my people.
Asked how he can he rate Makinde's performance, Com Wale Ajani take his time to explain, saying "You see what His Excellency Governor Seyi Makinde has done is great, interms of infrastructural development give it to him, Payment of salaries, Oh yes, a lot of the people will say it's normal to pay salaries yet states owe years of salaries, What do you say to that? he asked, the light up Oyo has open up all hidden den of the evil doer's, we can now go to bed rest assure of security of lives and property. Other economical developmental plans are on going, I will boldly say he has done well, noting that there's still room for improvement.
While stressing the need to have a youth representation, its about following the trend in technological innovations to better the lots of our people and not remaining in the old analog ways, which is what we are bringing into the fore, it's about ideas borne out of zeal and passion, which is deviod of political gimmicks of the old ways, it's the soro soke generation that are yearning for a better life style, a secured future that the old has failed to give us, i believe in the vision of youths. We have the numbers, i believe it's time we secure the future, it's all begins with us all.
Since the old could not secure the future for us, we need to look inwards and secured the future for ourselves and the next generation with total commitment, dedication and purposeful representation that will better the lot of our people.