Omi-tuntun Benedict Forum a renowned forum known for it's many philanthropic guesture has today organise a free healthcare mission in Akinyele Local Area of Oyo State.
The free medical health care mission was Administered to over 2500 residents of Akinyele Local government who trop out en masse to benefit from the scheme.
Speaking at the event the Chairman of Akinyele Local government Area Hon. Taoreed Adedigba said, "It's a thing of joy for me seeing my people benefiting from the many philanthropic guesture Chief Benedict Akika has embacked upon" It's an opportunity for everyone irrespective of party affiliations to benefit from this wonderful program, as an individual who thought it well, and come up with such scheme without asking for a dime nor being a government appointee, is nothing but being selfless, The Chairman also use the opportunity to call on every individuals to contribute their quota to the development of Akinyele local government, saying government can't do everything, Opportunities like this should be made often, this will help the needy and as well give them sense of belonging in the government ably lead by His Excellency Engr Seyi Makinde.
The founder of Omi-tuntun Benedict Forum Chief Benedict Akika while addressing the press said, "I've said this countless times that it's our responsibility as individuals to help the government no matter how little it seems or look, we have so many people who can not afford to go to any of the hospital for check ups, alot of them die in silence, opportunities like this make them have sense of belonging" I'm happy the turn out is massive, this will enable us do a follow-up of event, after analyzing the results, trust me it will be a recurrent event.
"We don't need to have everything before we can put smiles on the faces of the less privilege, having the opportunity to do this alone is a pride and thing of joy on its own.
Chief Benedict Akika reiterated is support, adding that we wont stop until every nook's and crannys of our rural areas feel the impact of this government, he also call on every well individuals to support the government of Governor Seyi Makinde in any little ways they can".
Advertisements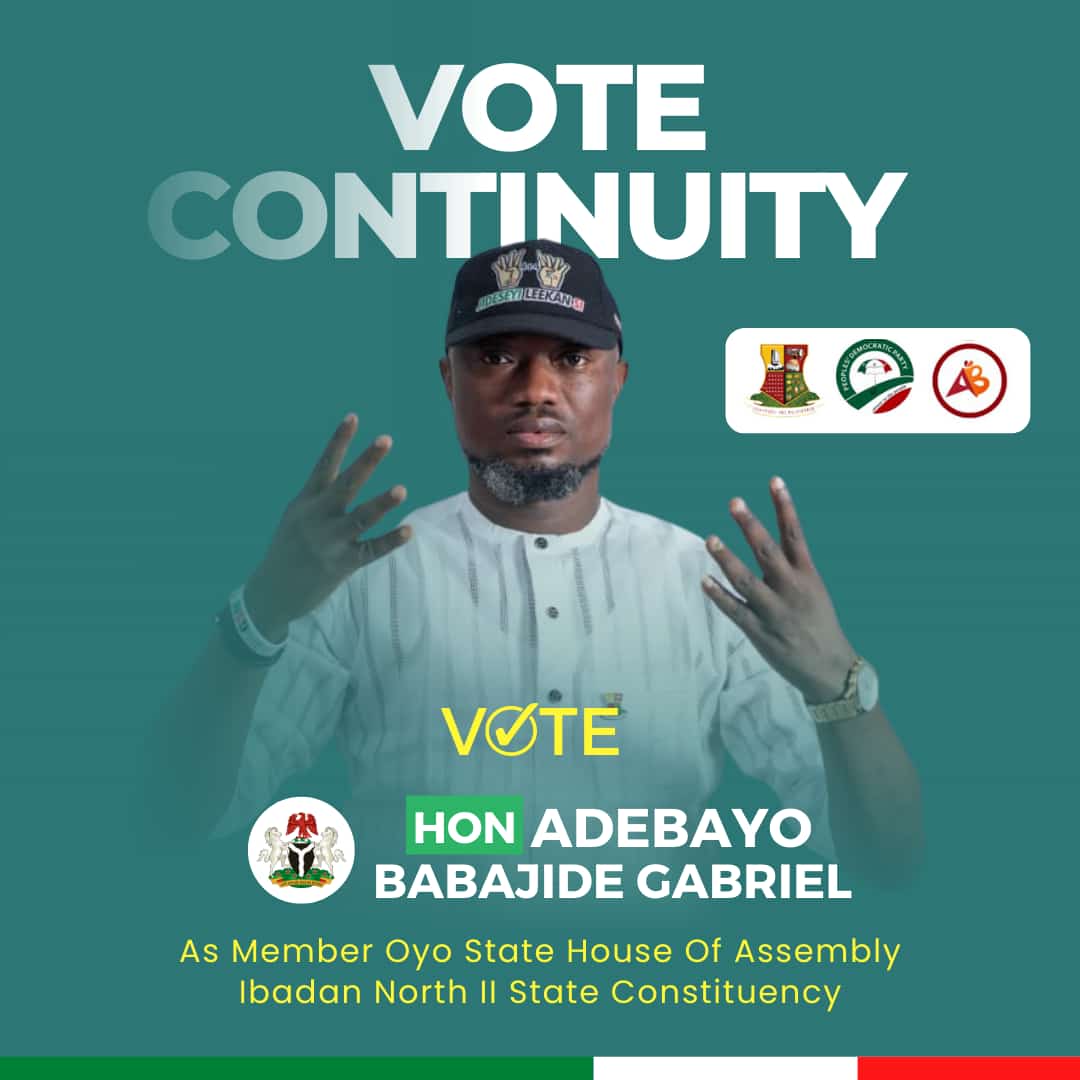 The Senior Special Assistant to Governor Seyi Makinde on SGDs, and Akinyele/Lagelu Federal Constituency Hopeful Hon. Kunle Yusuf Said, "what Chief Benedict Akika has been doing over the years can be said to be an individual SDGs, he's been empowering people from various schemes, it's a charllenge to us politicians, I'm here today to show my support, my people are beneficiaries and it's a thing of joy for me, he also use the opportunity to appeal to everyone to try as much as possible to get their voters card. adding that, for everyone to continue enjoying opportunities like this, it's important that they have the very important tools to vote such government back in power for continuos benefits of democracy.
A beneficiary of the free medical scheme Mrs Rita Wilson said, when i heard about the opportunity, it was a great relief for me, because it's been months now that I've been complaining to myself about my sight, but because I don't have the money i could not visit a hospital, my joy knows no bound, they give me glasses and also medical advice, i went to the other section, and i was also given drugs to help keep me fit, I'm an Igbo woman, but I've been in Oyo State for the past 20years, I've never experience such monumental development before, i want to call on everyone to give our Governor Seyi Makinde another chance to complete his many projects, while also thanking the Omi-tuntun Benedict Forum for the opportunity given to her, adding that only God can reward them enough.
Another beneficiary Mr Gbolagade Ismail said, "I was skeptical of coming thinking it's just a party affairs, but a friend convinced me, when i got here, i wasn't asked which party i belong to, neither was i ask to provide my party membership card, they attended to me almost immediately, it's true that our help cometh from who God has send to us, i want to thank the organizers of this wonderful program, I'm still shock that no images nor party logos are pasted around to show who is behind this wonderful program, i can only pray that God continue to Bless the organizers in thousands folds.
The Akinyele Party Chairman Elder Gbenga Adeleke thank the founder of Omi-tuntun Benedict Forum Chief Benedict Akika for his many developmental Strides in ensuring that he complement the government of His Excellency Engr Seyi Makinde, he also use the opportunity to call on son's and daughters of Akinyele to emulate such humanitarian guesture, adding that our collective responsibility will ensure speedy growths of our immediate community.
Dignitaries present at the event are, Akinyele Local government Chairman, Hon. Taoreed Adedigba, Akinyele/Lagelu Rep Hopeful, Hon Kunle Yusuf MON, Hon. Kazeem, Prince Falana Adebowale, Hon Afolabi Yusuf, GM Pace Setters Transport, Akinyele PDP Party Excos, Many Others.