Hon Bamikunle Razak Tunde a member of the People's Democratic Party from Iseyin Local government has declared his interest to represent the good people of Oyo North Senatorial District at the red chambers, Baba70 as he's foundly call also use the Occasion to visit the School for Special needs to identify with them, support and encourage them not to limit themselves as he's one of their own.
The Lautech trained Chemist, is a renowned farmer, A politician who once served under the late Alao Akala, he also worked with the current Senator representing Oyo North as Special Assistant for Years.
The presentation of items such as Solar Energy, Excercise Books, Food Items and others was done with representative of Governor Seyi Makinde's Special Adviser on Special Needs Barrister Adekanbi Ayodele who witness the epoch grammm.
Mr Bamikunle Razak Tunde Popular call Baba70 in his speech Title "NOT TOO WEAK TO RUN, PHYSICALLY DISABILITY IS NOT MENTAL DISABILITY" Reads….
I am greatly delighted to be in this special and unique school today in the midst of glorious pupils of the school. Before any other thing, permit me to appreciate the effort of Honourable Raheem Ajibola(FM), the proprietor of this great school. You are a politician with a difference. I commend your love and passion for the people with Special Needs.
It is rare to see a public spirited young man like "FM" who will commit his hard earned income into such a less lucrative service of running school for the handicap. In this age when many young men are struggling to invest in such high yielding ventures like: running Hotels, petrol stations, supermarkets etc. Even when Government failed to remember the Disables by establishing special schools for us in this Local Government "FM" filled the vacuum by establishing this school. I praise your vision, thoughtfulness and philantrophism. God bless you sir.
Advertisements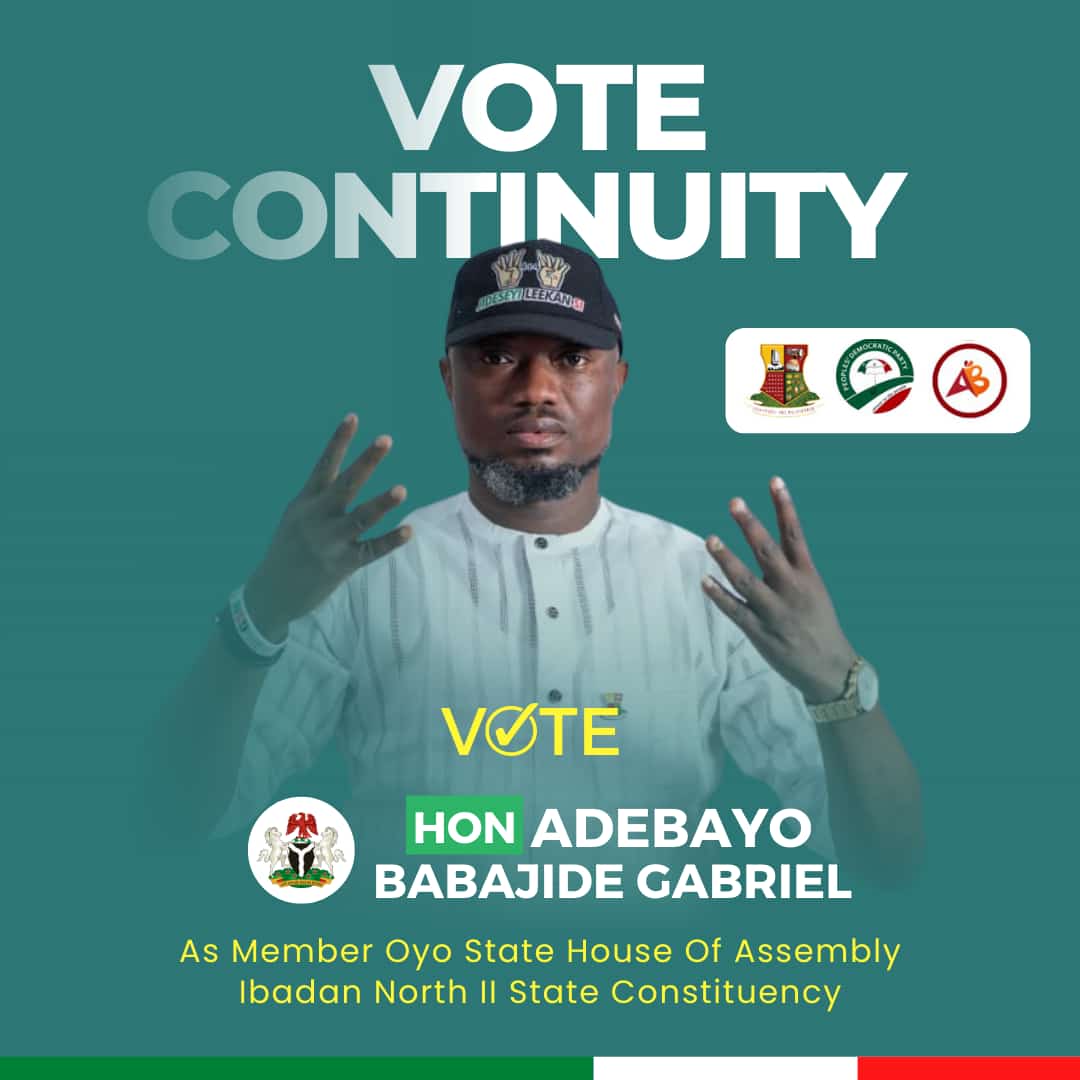 In addition, I sincerely thank the President, Accurate Youths Forum Iseyin, Comrade Haadi Yunus Oyetayo and all his colleagues. I thank you for the confidence you repose in me to call on me to take up the challenge to seek for recognition for the physically challenged in politics of Oyo State. This is to give voice to the voiceless. Thank you Accurate Youths Forum.
Today mark a watershed as we make this epoch visit to the School for the Handicap, it is part of our consultations to stakeholders to Galvanize support for my aspiration to cling the ticket of People Democratic Party(PDP) to be the party's flag bearer in year 2023 election to the National Assembly, We have tried the rich and able bodied people to represent us at the State Assembly, Federal House of Representatives and the Senate but they have largely disappointed us
Now, let us make a paradigm shift. Let us send a physically challenged person, who is not a "money bag" but a commoner to represent us and see the difference. I promise to stand for you, air your view view and stand accountable to you always.
I promise to serve you with fear of God. My aspiration to go to the Senate of the Federal Republic of Nigeria is not to acquire wealth but to seek ways to improve the living condition of the masses in Nigeria through the instrumentality of the law. I have committed my meagre resources to selfless services in the past and I believe if I am given the opportunity to serve on a larger pedestal I will do more for the masses.
The Peasant farmers, the poor Artissans, Okada Riders, Students, Civil Servants and the Physically Challenged persons are my primary constituents.I am one of you, I know your desires, aspirations, and challenges. Therefore, I will make a better representative for all of you.

At this juncture, I wish to call on all well meaning rich individuals that this project is beyond my financial capability. But like I said earlier it is collective project of all of us.
It is certain that the project is capital intensive and as such, we shall welcome financial contributions from loved ones.

Once again, I thank the management of this Special School for the warmth reception. I thank all our teeming supporters for trooping out today to grace this occasion. Thank you and God bless.
Long live Oyo State!
Long live Nigeria