Oyo/Osun Area Command of Nigerian Customs Service has intercepted 28,200 of Premium Motor Spirit(PMS) and 67 compressed wraps of cannabis sativa.
BA Jaiyeoba, Customs Area Controller Oyo/Osun Area Command disclosed this during a press briefing held at the Headquarters of the Oyo/Osun Area Command of the Nigerian Customs Service, Ibadan, the capital of Oyo State.
According to him, "gentlemen of the Press
It is with great pleasure that I welcome you all to the Headquarters of the Oyo/Osun Area Command of the Nigeria Customs Service Ibadan to showcase the achievements made in terms of Anti-smuggling operations, Revenue collection and enforcement of Federal Government policies aimed at ensuring self-sufficiency for the citizens of the Country.
"As you would recall that during the last press briefing, the Command displayed as part of its seizures made, One Hundred and One (101) drums of 200 litres each and Six Hundred and Nine (609) kegs of 25 litres each of Premium Motor Spirit (PMS) intercepted within the Oyo/Osun Commands Area of Coverage.
"Today we are once again, displaying amongst our array of seizures One Hundred and Forty-One (141) drums of 200 litres each of Premium Motor Spirit (PMS) which is the major highlight of our reinvigorated anti-smuggling Operations. This ONE TIME interception totaling Twenty-Eight Thousand Two Hundred (28,200) litres of Premium Motor Spirit was perpetrated by some unpatriotic Nigerians attempting to smuggle the product out of the country.

Another prominent seizure among the range of interceptions made by the command since our last press briefing is the interception of Sixty-Seven (67) compressed wraps of Cannabis Sativa, along with Three (3) suspects.
"The suspects and the offending items have been handed over to NDLEA for further investigation and prosecution in line with statutory regulations.
As a Command, we shall not relent in our efforts to suppress smuggling, as we shall continue to work on intelligence and ensure we deploy all available resources in accordance to all Extant Laws as enshrined in the Customs and Excise Management Act (CEMA) Cap C45, LFN 2004 as amended to keep the States of Oyo and Osun safe from all economic saboteurs.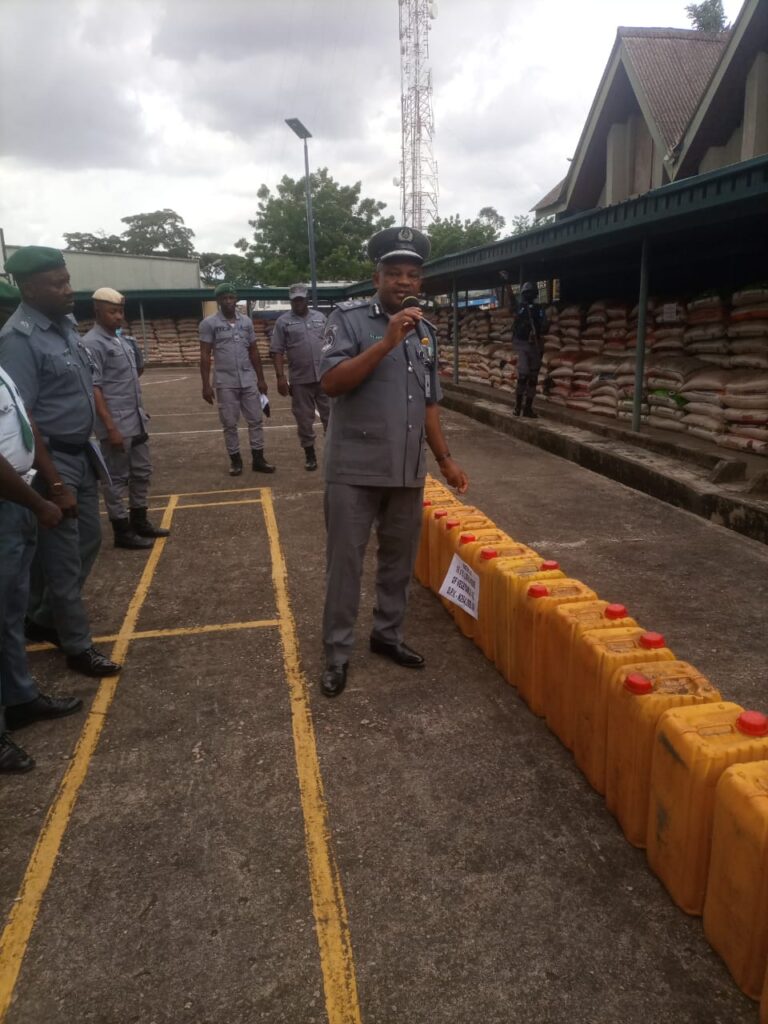 "We therefore use this opportunity to implore members of the general public to continue to provide necessary information on activities of economic saboteurs in their environs to the Command in order to improve our service delivery and safe guard our Country, Nigeria.
REVENUE:
In the month of April 2022, the Oyo/Osun Area Command collected a total revenue of ₦5,436,756,547.04 (Five Billion, Four Hundred and Thirty-Six Million, Seven Hundred and Fifty-Six Thousand, Five Hundred and Forty-Seven Naira, Four Kobo), which represents an increase of ₦905,917,556.46 (Nine Hundred and Five Million, Nine Hundred and Seventeen Thousand, Five Hundred and Fifty-Six Naira, Forty-Six kobo) when compared to the collection of the same period in 2021.
"When added to the collection of January to March 2022, the Command has so far this year collected a total of ₦19,031,603,833.66 (Nineteen Billion, and Thirty-One Million, Six Hundred and Three Thousand, Eight Hundred and Thirty- Three Naira, Sixty-Six Kobo) only.

ANTI-SMUGGLING OPERATION
Between Friday 11th March 2022 to today Monday 23rd May 2022, the Command has made series of interceptions comprising of 76 (Seven-Six) seizures and 4 (Four) detentions.
"These include but not limited to Premium Motor Spirit, Cannabis Sativa, Foreign Parboiled Rice, Frozen Poultry Product, Second Hand Clothing, Used Shoes, Used Tyres, Used Vehicles (used as means of conveyance), Computer Accessories, New Motorcycle Parts, Foreign Vegetable Oil and other household items with a Duty Paid Value (DPV) of ₦151,003,043.00 (One Hundred and Fifty-One Million, and Three Thousand, and Forty-Three Naira) Only as listed below:
"I would like to mention that the achievements showcased here today were made possible through the timely sharing of credible intelligence and effective collaboration between the vigilant officers and men of the Command, various intervention arms of the Service and the general public especially the good people of Oyo and Osun States, by way of giving timely information that has helped the Command in tackling the fight against smuggling and illegitimate cross border trade.
"Furthermore, I would also like to appreciate the collaborative efforts of Sister Agencies such as the Nigerian Army, Nigerian Air force, Nigeria Police Force, Department of State Security (DSS), National Drug Law Enforcement Agency (NDLEA), Oyo State Operation Burst and Amotekun Corps for their cooperation in the discharge of our Statutory duties.
"In conclusion, I would like to reassure the good people of Oyo and Osun States, the resolve of the Command to continue to improve on service delivery by suppressing smuggling in accordance to all Extant Laws guiding the Service thereby safeguarding our people from consumption of unwholesome products.
May I use this medium to thank the Gentlemen of the press for honoring our invitation, as I wish you all journey mercies to your respective destinations", Jaiyeoba ended.