…. To Launch GSM Revolution Campaign By Friends Of JIGA
…Drums Support For Odidiomo
As campaign for the 2023 gubernatorial election kicks-off, the Director General, Oyo State Gaming and Lottery Board, Hon Olajide Boladuro is set to present three branded campaign vehicles and other campaign materials to the Peoples Democratic Party in the state to enhance its 2023 general elections campaign.
Boladuro who is popularly and politically known as JIGA disclosed this to GOAL POACHER NEWS in Ibadan on Wednesday shortly after a meeting with some stakeholders of the party in his office where they mapped out plans and strategies on how to ensure that Governor Seyi Makinde and other candidates in his local government, Ibadan Southwest and by extension his federal constituency, Ibadan Northwest/Ibadan Southwest deliver bloc votes to all the candidates.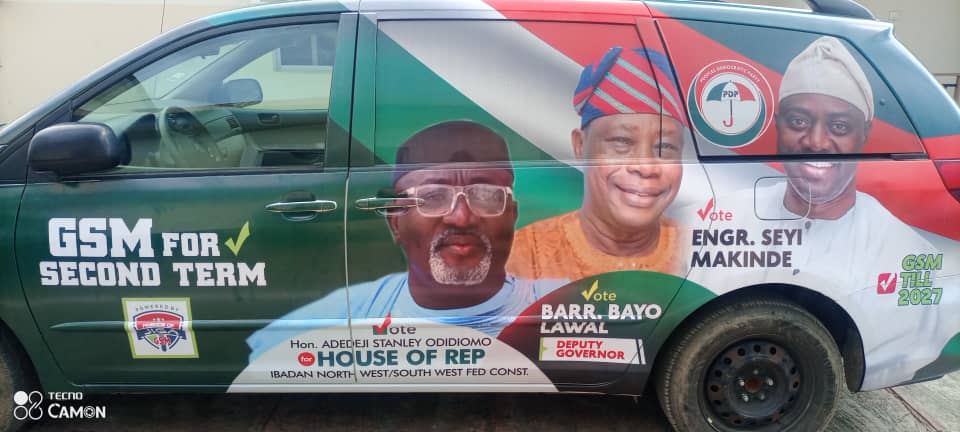 According to him, the vehicles and other campaign materials handed over to stakeholders by next week.
He listed the materials that would be donated aside the vehicles to include: banners, posters, T-shirts, pamphlets, billboards and caps.
Boladuro who remains one the best performing aides of Governor Seyi Makinde said the donation of the items was aimed at boosting the party's campaign in the state and ensuring the successful re-election of the governor for a second term as well as other candidates who are vying for senatorial, House of Representatives and House of Assembly seats.
Also listed as part of the activities lined up for the reelection strategy is the launching of Governor Seyi Makinde Revolution Campaign Group Powered by friends of JIGA both home and abroad. He noted that the movement would be launched soon.
His words:
"The purpose of this is to give support to the party apart from being an aide to my principal who found me worthy to contribute my quota to his administration. Our governors deserves all our supports.
" Also, I will launch the JIGA movement which will centre round mobilization of my friends in the Diaspora to support Makinde's reelection. The contributions of the movement will be for the success of the campaign and election of all PD candidates in the state.
He called on the electorates, especially the youths to rally round the Governor in order to consolidate on the successes his administration has already recorded.
Hon Olajide Boladuro also describes the House of Representatives member for Ibadan Northwest/Southwest federal constituency, Hon Stanley Adedeji Pedro Odidiomo as a formidable politician who has performed excellently well in his legislative and oversight duties.
He called on residents of the Federal Constituency to reciprocate the good gestures of the federal lawmaker by reelecting him in February 2023.