The Chairman Youth media campaign council who is also a former aspirant Oyo State House of Assembly from Ibadan North East, Egalitarian, Dig. Comrade Moyosoreoluwa Olamilekan Eldreez popularly known as "Ijoba Authority MOE" as commended the efforts of Honourable (Mrs) Ramata Agberemi Dabo (RAD) for the provision of campaign Billboards, distributions of souvenirs and posters in the entire Lagelu LG environment for public awareness of Omituntun 2.0
Comrade Moyosoreoluwa described Hon. (Mrs) Ramata Agberemi Dabo (RAD) as a generous woman with can do Spirit. Always making things work as well very much active to the re election bid activities of His Excellency The Executive Governor of Oyo State Engr. D.Sc Oluseyi Abiodun MAKINDE FNSE.
"Your deposition to the re-election of Governor Makinde as Oyo State Governor once more, Hon. Akintunde Emmanuel again and Hon. Adeaga has been seen as a very brilliant work and highly noteworthy. You are magnanimous, indefatigable, true democrat and a humanitarian woman to pieces.
"RAD, the Lagelu/Akinyele Amazon, keep flourishing, making the good people of Oyo State proud and God the rewarder will uplift you more for all your labour of love soon", Comrade Moyosoreoluwa stated.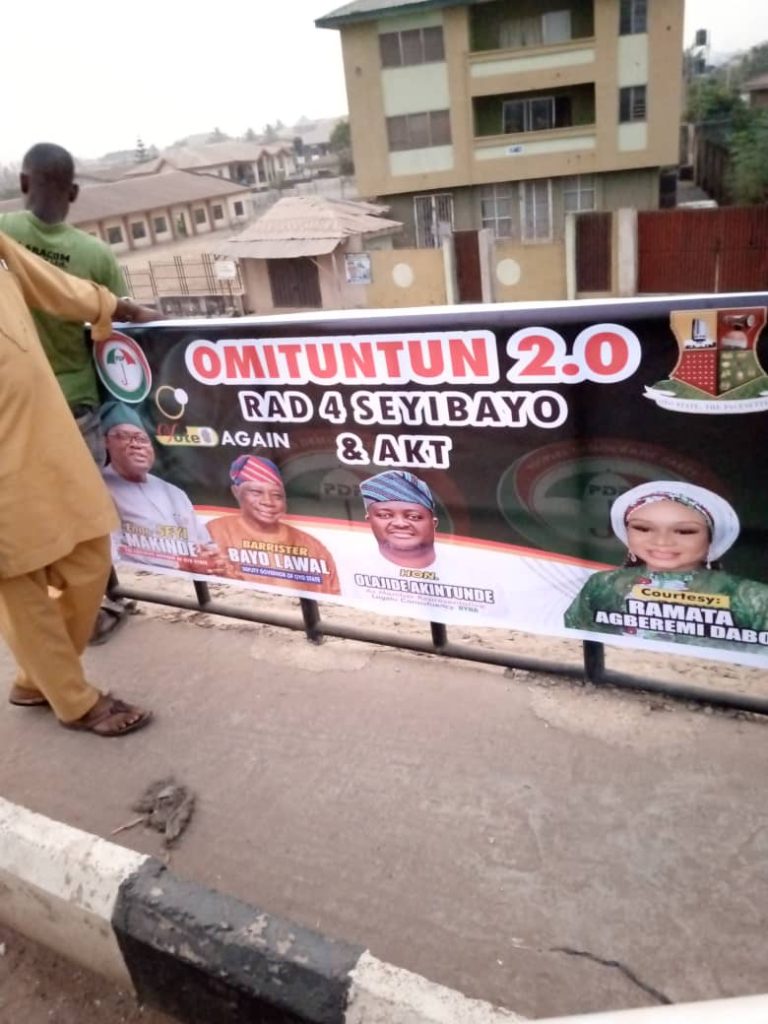 Recall, Honorable RAD is a Former Aspirant for Lagelu/Akinyele Federal Constituency in the People's Democratic Party (PDP) primary.
She is a member of Presidential Campaign Council (PCC South) ATIKU/OKOWA 2023.
Presently, she is also the Director General to the performing, result oriented State House of Assembly Honorable, Hon. Akintunde Emmanuel Olajide (AKT) in Lagelu LG and she happens to be the first Female ( DG) in Lagelu as well the Only throughout Oyo State he said.