Ahead of the forthcoming presidential election, community based organisations, civil society organisations and other Faith groups have endorsed the candidacy of the People's Democratic Party, Alhaji Atiku Abubakar.
The manifesto of the PDP candidate was also attested to by the groups during a one-day sensitisation meeting held at Kimbis International Hotels, Otukpo Road, Makurdi, Benue State.
Hon Kunle Yussuf, MON, while presenting Atiku's manifesto to the CSOs and CBOs, assured that the PDP Presidential Candidate will deliver on the campaign promises, adding that all the 17 SDGs targets and other Development Agenda are already encapsulated in the Atiku's manifesto.
In attendance were Hon. Mrs Charity Echo- Special Assistant to the Governor on Civil Society's Organisation; Kunle Yusuff, MON- Assistant Director, CSOs, PDP-PCMC; Hon. Oladimeji Fabiyi- Deputy Director, Volunteers, PDP-PCMC; Hon. Adai Godwin Adai- Cordinator, Democracy Witness International Group; Engr. Shima Ayu Obande Gideon, Hon. Ikoy Jemmy, Hon. Atokaa Joseph.
The civil society organisations represented at the event include Northern Women for Development; Northerners Youth Mult- Purpose Group; Food Sellers Association; NAN Representatives; Forum of Disabilities, Association of Castles Sellers; Grassroots Development Initiatives; Barbers Association Representative; Centre for Grassroots Development and Peace Initiative; Equity Advocates; Visions Guidance Initiative, Village to Village Benue Chapter, Friends of Fortune Good Governance and a host of others.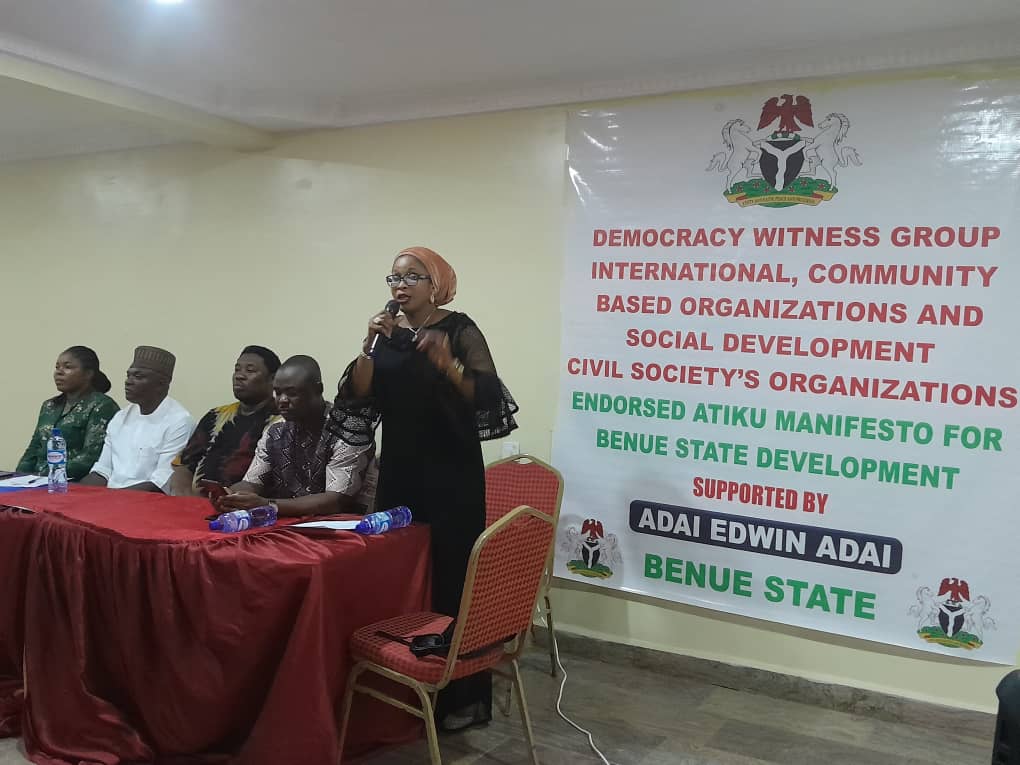 COMMUNIQUÉ AT THE END OF A ONE-DAY SENSITIZATION MEETING AND PRESENTATION OF ATIKU MANIFESTO.
HELD AT: KIMBIS INTERNATIONAL HOTELS, OPPT FIRST BANK PLC, OTUKPO ROAD, MAKURDI, BENUE STATE.
DATE: SUNDAY, 5TH FEBRUARY 2023
The body collectively appealed to INEC to ensure that materials for election arrive at all the various polling units in time for Nigerians to have smooth voting exercise.
An appeal was made to Alh. Atiku Abubakar, GCON when elected Nigeria's President to solve the issues around Fulani herdsmen and find an everlasting solution to security challenges in Benue State.
Atiku should also use his office as the President to revive Nigeria economy through Agribusiness, fundamentally, because Agriculture is the business in Benue State.
An appeal was made to Atiku to use his administration to RESET Nigeria from Poverty to Prosperity.
It was unanimously agreed upon that Atiku's manifesto be adopted as the basic policy on Developments, especially as it concerns Benue State.
The managers and campaigners of Atiku Presidential candidature were also commended for running a peaceful campaign devoid of mudslinging and character assassinations, in compliance with the peace accord signed by their principal, Atiku Abubakar with the other Presidential candidates and the Peace Committee of Nigeria.